OUR ACHIEVEMENTS :
2022 :
construction of the Ambanpitiya school for 25 children
education and awareness and development program for 250 children (awareness of children's rights, provision of school materials and organization of cultural and
educational activities and vegetable gardens)
awareness program for 500 young girls and young men on domestic violence, gender equality…
financing of latrines, drinking water tank for four schools
2021 :
training program and creation of subsistence or income-generating activities for 100 women in 7 villages (breeding, cultivation, trade, etc.)
financing of 500 schoolbags for schoolchildren in several schools
2018 :
renovation of a school and socio-educational building in the village of Betaweera
WHY SRI LANKA ?
Small pearl of the Indian Ocean that reveals a multitude of splendors, Sri Lanka is a land where several ethnic groups cohabit: a Sinhalese majority, a high proportion of Tamils, as well as Moorish and Burgher minorities.
The current generations are still dealing with the tensions that led the population to the civil war. That particularly bloody and cruel civil war took place between 1983 and 2009, after the withdrawal of colonial troops.
Sri Lanka is the world's largest tea exporter and the fourth largest producer of this "green gold", which has become a luxury product.
The job of tea picker is mainly done by women of Tamil origin from generation to generation. It is dangerous and extremely hard.
Discrimination against this population occurs at several levels. Women and children are the first victims because they are the most exposed to discrimination, malnutrition, physical and sexual violence, abuse and exploitation at work. The situation is still very worrying.
The NGO "Human Development Organization" was created in 1992 and aims at promoting the rights of deprived and ostracized communities and promoting a fairer, equitable and peaceful civil society.
HDO is a platform through which the population is empowered, i.e. put at the center of action and reflection to ensure a sustainable development of their community.
Considering this context, as well as the mission and values of HDO, we established a partnership in 2016 to join forces and act with this population.
WHAT ARE OUR ACTIONS ?
In the remote villages in the heart of the plantations, the educational centers are an answer to the lack of multiple resources: daycare for the little ones, place of awareness and information for youth and women, space for children's homework, etc.
However, the state of these buildings is worrying. They date from the colonial era and have endured repeated and rather violent climatic events.
Renovation of educational centers
In order to make the facilities operational and safe, HDO and Indah have prioritized their renovation/reconstruction.
So in 2018, a first building was fully renovated, with 7 other villages waiting for their turn.
In 2019, the projects have been stopped because an upsurge of violence has hit the country and our partner has lost part of its team.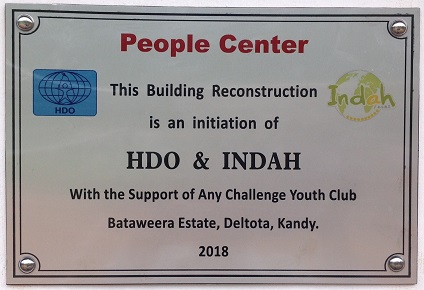 In 2020 and 2021, we were finally able to resume our actions and rebuild the Ambanpitiya school building despite the health crisis.
In 2022, we are continuing with projects for other school buildings.
Indah attaches great importance to field missions. We therefore go on site at least once a year. Beyond the organization and communication with our local partner, it is important for the Indah team to establish a relationship with the beneficiaries… This basic principle allows them to move forward with confidence and allows Indah to move forward with an awareness of the realities of the field. This makes the collaboration more effective.